What is Care by Volvo?
Volvo's all-inclusive subscription service that offers the following benefits:
No price negotiation
One flat monthly rate
Insurance coverage
Maintenance, roadside assistance included
Ability to upgrade to a new Volvo after 12 months
15k mileage allowance per year
Ease of subscribing – online or via App (iOS and Android)
Fast delivery – get your new Volvo in as little as 2-4 weeks from Prestige Volvo
What else you get with your subscription
Drivers in East Hanover, NJ, can expect the following with their subscription.
Insurance coverage
We take care of insurance and all eligible drivers are covered.
Service and maintenance
Get factory-scheduled maintenance, road hazard protection and roadside assistance. Plus, excess wear and tear coverage for items like brake pads and rotors.
New vehicle upgrade
Care By Volvo is a 24-month subscription plan, however, you can upgrade to a new Volvo anytime after the first 12 months.
24/7 Concierge
Your Volvo Concierge is your personal assistant for your Volvo online order. We'll ensure a smooth ordering experience every step of the way.
Here's how Care by Volvo works:
Complete your subscription in less than 10 minutes from start to finish.
Select your vehicle
Choose from five of our most popular models, with a range of styles and features to match your taste.
Subscribe
Order online or through the app, select Prestige Volvo as your dealer. Your credit and insurance eligibility will be verified in minutes with just one easy step.
Pick up your vehicle
Your 24/7 Volvo Concierge will contact you to schedule delivery at Prestige Volvo.
Select a Care By Volvo vehicle
SWIPE TO SEE MORE
Making life less complicated
Answers to your questions
The Care By Volvo subscription includes an allotment of 15,000 miles per year. Unfortunately, we do not offer additional mileage to be purchased with Care By Volvo at this time. If you run over the 15,000 mile per year allotment you will be charged an additional $.25 per mile when you turn in your Volvo.
As part of the Care By Volvo program, we take care of insurance. We partner with Liberty Mutual Insurance to obtain comprehensive coverage for our vehicles.
Subject to state-specific rules, all drivers disclosed during the sign-up process will be covered. Please contact 1-800-550-5658 if you have questions.
The subscription price excludes taxes and registration fees. They vary based on your address and will be summarized for you prior to pick up.
Care By Volvo requires no down payment, and therefore a trade-in cannot be applied to the Care By Volvo subscription. If you have a trade-in, contact Prestige Volvo and we can assist you with your trade as a separate transaction.
After your eligibility for Care By Volvo has been confirmed, you can expect to take delivery of your new Volvo XC90, XC60, XC40, S60 or V60, within approximately 2-3 weeks. Once your Volvo is available at Prestige Volvo we will schedule a time that works best for you for pick up at our Englewood Volvo dealership or if you live in New Jersey or New York City we will deliver it to you. Your subscription will start on the day you take delivery of your new Volvo.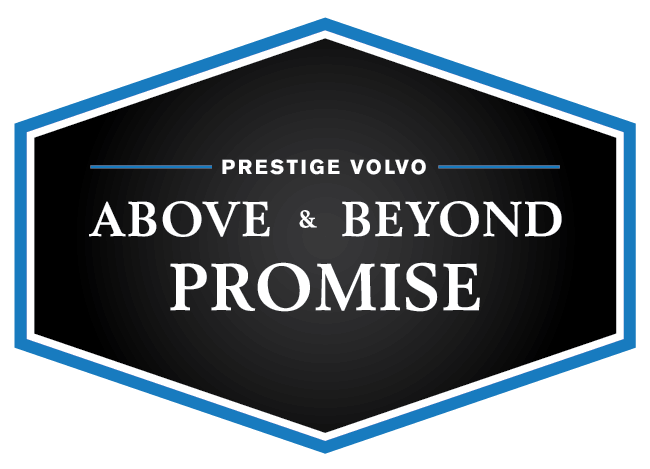 At Prestige Volvo Cars East Hanover, the entire experience is built around you...
We'll Bring The
Test Drive  To You
Complimentary
Delivery
Pick Up
& Delivery
Above & Beyond
"Prestige Volvo has gone above and beyond my expectations!"
Jesse B. ‑Google Review
We're ready to help you build your new Volvo.
Our East Hanover, NJ, Volvo dealership near New York City, Newark, and Morristown, NJ is here to assist you in building your subscription for your new Volvo. Our Volvo sales team can help you determine which Volvo model will fit best with your lifestyle and then work to narrow down which trim level and packages give you all of the options and features you desire.